On this page, we are posting a map of large-scale office building development projects currently in progress in Tokyo. The survey was conducted on buildings with more than 10,000 m2 of floor space that will mainly be used for offices in the 23 wards of Tokyo in April 2009, regardless of whether they would be used by their owners or leased to tenants. The total floor space of 8.09 million m2 that will become available through the 138 buildings to be completed in and after 2009.
This information is based on not only publicly announced materials but also on onsite survey conducted by our staff, making it an unparalleled source of information in Japan. For the subscribers, detailed specifications of the each buildings are also available for download.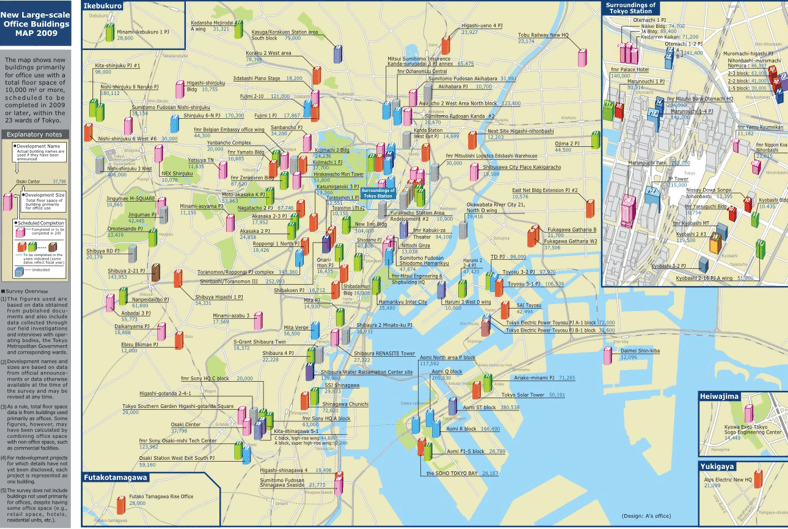 *Sign up for the trial demo and download this map for free.
A total of 31 buildings with a total floor space of 1.1 million m2 will be completed in 2009 and roughly the same number of buildings will be completed in 2010 as well. Thereafter, more buildings will be completed in 2011 and 2012, with more than 1.8 million m2 of floor space being supplied in 2012.
Construction plans for an additional 38 buildings were added to the data in the latest survey. Of those buildings, 25 will be completed by 2011. As was the case in the survey carried out one year ago, the construction of single buildings, which require shorter construction periods, was more active. Meanwhile, the buildings being completed in and after 2012 will mostly be large buildings with more than 100,000 m2 of total floor space. In our latest survey, plans for an additional six buildings came to light as parts of redevelopment projects.