Two Weeks Free Trial Subscription
With the Nikkei Real Estate Market Report trial subscription, you will have two weeks of free access to all articles, including about five new articles per day. Approximately 6,000 articles dating back to 2007 can also be searched.*
Step 1: Fill in the form.
Click on the button below and submit your EMAIL ADDRESS and PASSWORD.
Step 2: Check your email.
An e-mail for the registration will be sent to the registered e-mail address, so please register from the URL indicated in the e-mail. The trial subscription will start immediately after the application.
Step 3: Enjoy information at your fingertips!
Enjoy an incomparable wealth of information trusted by commercial real estate professionals in Japan and other countries. Information on the paid subscription will be sent after the two week trial period has ended.
*
In addition to the news articles mentioned above, a sample issue of the Monthly Edition, with feature articles in PDF format, and a sample spreadsheet that lists transaction data are available with the trial subscription. Paid subscribers have access to more than 70 back number issues and over 7,500 transaction cases online.
For details concerning the contents of this service, please click the link below:


About the Nikkei Real Estate Market Report
For information on the paid subscription, please click the link below:


Subscription
Contents
News
Over 6000 news articles published online during the period from January 2007.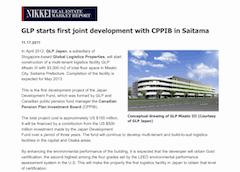 Transaction Data
A comprehensive list of deals which were collected during October to early September in 2011. Provided in PDF and CSV formats.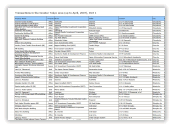 The Monthly Edition
A sample issue which consists of 20 pages of articles.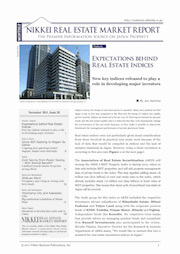 Feature
Expectations behind Real Estate Indices
New key indices released to play a role in developing major investors
Area in Focus
Ginza Still Seeking to Regain its Glitter
Lingering price gap keeps market stagnant, despite some land deals
Topics
Cost Saving from Power Saving - Who Should Benefit?
Landlord rewards tenants for power-saving efforts
Rents and Relocations
Shibuya Ward, Yokohama City and Kawasaki City
Market Data Supplements
Building Map:
A map of large-scale office building development projects currently in progress in Tokyo

The survey was conducted on buildings with more than 10,000 m2 of floor space that will mainly be used for offices in the 23 wards of Tokyo in April 2011. This information is based on not only publicly announced materials but also on the onsite survey conducted by our staff, making it an unparalleled source of information in Japan.

Apartment Rent Survey: Apartment rents in popular residential areas
Closing Rent Survey: Our proprietary survey of closing rents for office buildings
Office Market Index: Advertised rents and vacancy rates
Retail Rent Survey: Advertised rents and vacancy rates on major shopping streets